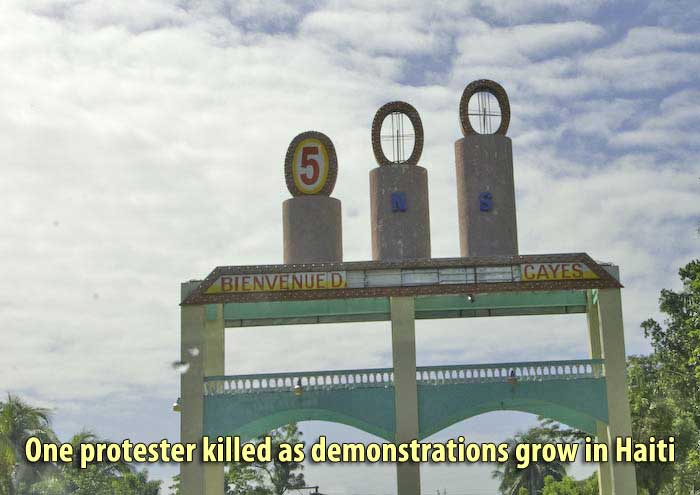 HIP News Flash
One protester killed as demonstrations grow in Haiti
Les Cayes, Haiti — A second day of protests in Haiti's third largest city against growing hunger and high food prices escalated out of control today. More than 3000 demonstrators surrounded a UN compound that houses Uruguayan troops who reportedly opened fire on the crowd. One protester was confirmed killed and four others wounded by gunfire.
On Thursday, over 5000 protesters set up flaming barricades throughout the main downtown area of Les Cayes and paralyzed traffic for several hours according to eyewitnesses. Demonstrators stopped two trucks loaded with rice and after the drivers fled the scene, began distributing it to the crowd. They also attacked the fence of the headquarters of United Nations forces in the area. Uruguayan troops with the United Nations Stabilization Mission, known by its acronym MINUSTAH, opened fire on the crowd and witnesses claim that five people were wounded in Thursday's protests.
A thirty-two year-old woman who identified herself as Sonia Jeanty stated during a telephone interview from Les Cayes, "We are hungry and have given up on the UN and the Preval government to help us. After all the money they have spent here most of us are eating only one meal a day. It's unacceptable especially as we hear the UN trying to tell us everyday on the radio that things have gotten better. It's a lie!"
Mounting protests throughout Haiti stand in stark contrast to recent press releases and interviews by UN officials claiming that the situation in Haiti has vastly improved since the election of Rene Preval as president in Feb. 2006. The international community has invested over 2 billion in Haiti to date while reports indicate the average Haitian has seen relatively little improvement in their living conditions. The price of staples such as rice and beans, whose importation is controlled by a few wealthy families, has nearly doubled while unemployment remains at close to 80%.
©2008 Haiti Information Project - All Rights Reserved
The Haiti Information Project (HIP) is a non-profit alternative news service providing coverage and analysis of breaking developments in Haiti.
Winner of the CENSORED 2008 REAL NEWS AWARD for Outstanding Investigative Journalism
See Also:
Lavalas movement in Haiti will not quit Mar 9
Brazilian military's experience comes full circle in Haiti Feb 20
Haiti: The transformation of diplomacy
or a new Manifest Destiny? Feb 28
Haiti's wealthy prosper while the poor decline
Pentagon's troubling role in Haiti Jan 12
Human rights defender forced into hiding in Haiti Dec 27