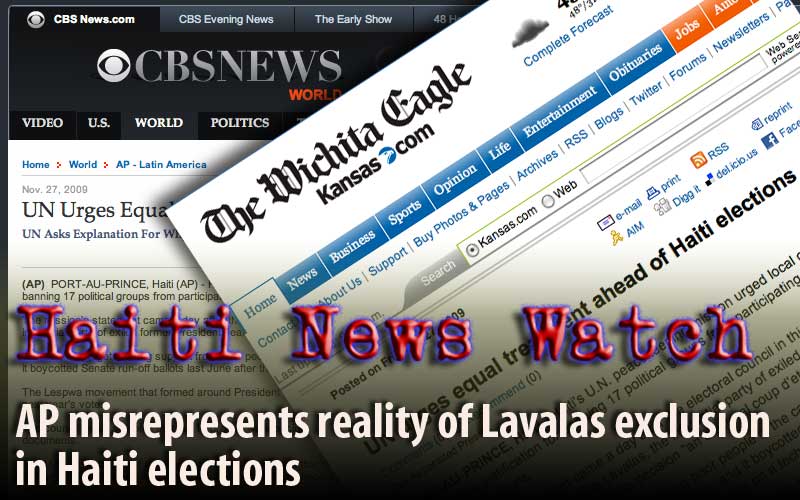 AP misrepresents reality of Lavalas exclusion in Haiti elections
Analysis:
The Associated Press provides information that Haitian President Preval's LESPWA party was also banned from participation in the next parliamentary elections scheduled for early 2010. It gives the false impression that the banning of LESPWA candidates is on an even par with the banning of Lavalas.
In fact, Preval's LESPWA organization was replaced a month earlier at the president's request by a new political organization called INITE or Unity which WAS accepted to participate in the upcoming elections.

Infraction: Misrepresentation of facts, false equivocation
Article Title: UN urges equal treatment ahead of Haiti elections
November 27, 2009
URL: http://www.google.com/hostednews/ap/article/ALeqM5gwk_RJA8imQ2nmsEHQfRcrTkzcJgD9C85N1O0

News Organization:
Associated Press
Headquarters
450 W. 33rd St.
New York, NY 10001
212-621-1500

Quotation:
"The Lespwa movement that formed around President Rene Preval when he ran for president in 2004 was also was banned from next year's vote."
Omissions:
Source 1:
Radio Metropole
Vendredi, 27 novembre 2009 11:31
Title: 53 partis et regroupements sont autorisés à participer aux legislatives
Surprisingly, the Lespwa Platform that won senatorial elections in 2009 was also excluded from the electoral process. The situation is different for Lespwa since the members of this group are now part of the Unity Platform.
Source 2:

radiovision2000haiti.net
Posté le jeudi 26 novembre 2009 à 15:21
Title: Le président René Préval dénoncé par des parlementaires
Several parliamentarians of the 48th Legislature denounced President René Préval who is about to finance the campaign of candidates for Inite.
These senators and deputies complain that the National Palace has been transformed into a political party headquarters [for Inite] .
Conclusion:
AP falsely equivocates the disqualification of Preval's LESPWA party with the second banning of Lavalas from participation in the electoral process. They fail to provide any background or analysis of Preval withdrawing his support for LESPWA a month earlier and since sponsoring a new coalition called INITE. The new Preval-backed INITE coalition was on the accepted list of political parties and organizations allowed to participate in the next parliamentary elections scheduled for early 2010.
Haiti News Watch (HNW) is an independent organization dedicated to fact checking news sources related to coverage of events in Haiti. Our reports and analysis of news content is intended to provide readers with story context and the background of sources used in published articles related to Haiti.
see also
Two-faced Democracy in HaitiNov 26
Remembering a champion of the poor in Haiti Sep 10
Haiti and Miami activists meet to plan for Fr. Jean Juste funeral Jun 17
Mon Père, Remembrances of Fr. Gerard Jean-Juste
May 29
HaitiAction.net UPDATE
Reverend Father Gerard Jean-Juste
many past articles, photos and links of our beloved Pér Jean-Juste compiled on one page
Pè Jean Juste: personal remembrances - Respè
Lavalas flexes its muscles in Haiti Apr 20
Poll projects low voter turnout in Haiti: Protests banned by Kevin Pina Apr 16
Perverted Priorities: Corpses, sham elections, and sweatshops in Haiti Apr 10
Controversial Senate elections planned in Haiti Apr 6
Thousands march in Haiti demanding return of Aristide Feb 29
Propagandhi: progressive thrash, Haiti and activism on tour Feb 26
Haiti bill calling for investigation of U.S. role in 2004 Coup d'État Feb 5
The rebirth of Konbit in Haiti Dec 17
Contact us: info@haitiaction.org
Contact us: info@haitiaction.org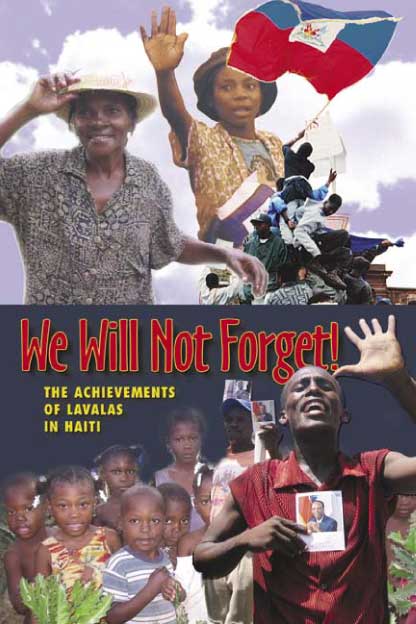 Contact us: info@haitiaction.org