Haiti journalists Kevin Pina and Jean Ristil released from jail after international campaign to protest arrests
On Friday, September 9, American journalist Kevin Pina was arrested in Haiti, because he insisted on filming a search at the church of political prisoner Fr. Gerard Jean-Juste. A Haitian journalist, Jean Ristil, was arrested because he photographed Pina's arrest. Both spent the weekend in prison (articles about their arrests are below).
Thanks to a mobilization in Haiti, the US and throughout the world, pressure was put on the Haitian government to stop this political persecution. Thanks to attorney Mario Joseph of the Bureau des Avocats Internationaux, who represented Pina and Ristil, Judge Jean Paul Peres has released both journalists, with no further charges against them. Ristil was released early Monday, Pina was subjected to 3 and 1/2 hours of interrogation, and released just after 5 PM Haiti time.
We will have more on this in tomorrow's action alert, including, we hope, an account by Pina of the conditions in the prison that he has left behind, but which are still filled with people who have not been charged with any crime.
The Bureau des Avocats Internationaux urgently needs financial support, so that it can continue to represent political prisoners like Ristil, Pina, and Rev. Gerard Jean-Juste, and the families of those killed by police and death squads. Please send contributions to the Institute for Justice & Democracy in Haiti, Box 806, Key Biscayne, FL 33149.
You may also donate on IJDH's website, www.ijdh.org, although the website is down and we do not expect it to be working until Wednesday.
-- Report from the Institute for Justice & Democracy in Haiti
See Also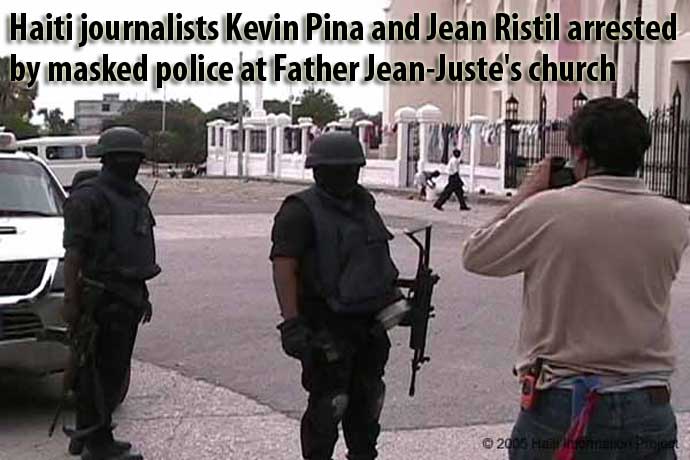 ©2005 Haiti Information Project - May 18, 2005 - Scene from HIP documentary Haiti: The Untold Story - Kevin Pina (on right) and other Haitian jounalists deter the deadly PNH SWAT teams from violence on Haiti's Flag Day by the presence of their cameras. Masked police arrested Pina and freelance journalist Jean Risil today at Rev. Jean Juste's church in Delmas.