Prime Minister Jacques-Edouard Alexis is escorted fom Haiti's parliament following a vote of no-confidence on Saturday
April 12, 2008. photos ©2008 Haiti Information Project (HIP), Jean Ristil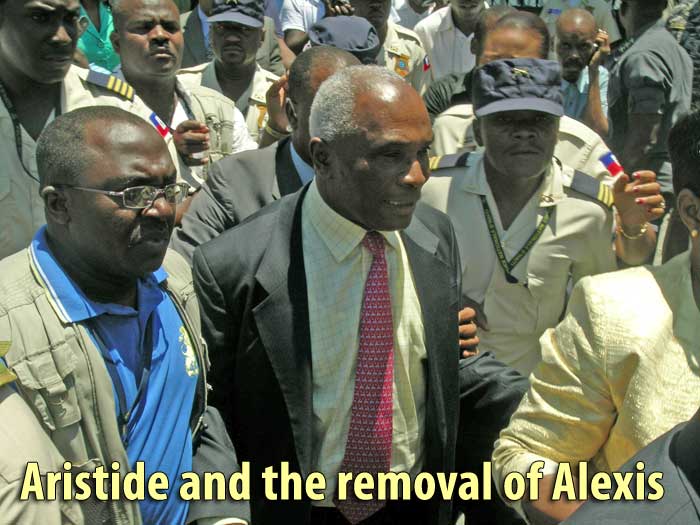 Haiti: Aristide and the removal of Alexis
HIP - Port au Prince, Haiti — The situation in Haiti was thrown into further confusion on April 12 as the Haitian parliament passed a vote of no confidence against Prime Minister Jacques-Edouard Alexis. Led by rightists in Haiti's parliament such as Senators Youri Latortue, Adris Riche and renegade Lavalas party Senator Roudy Herveaux , the vote of censure was passed on April 12, 2008 at 11:55 am EST.
President Rene Garcia Preval, following controversial U.N.-sponsored elections in 2006, appointed Alexis as Prime Minister. Alexis served for an administration touted as a coalition government backed by the United States and the international community that included members of the so-called opposition that forced former president Jean-Bertrand Aristide into exile in 2004. Alexis' administration gave the final appearance of a legal veneer to the ouster of Aristide and his political movement known as Lavalas by co-opting former grass-roots leaders into his government.
Plumes of smoke rise from burning tires ,blocking major intersections of the capital of Port au Prince on April 10, 2008.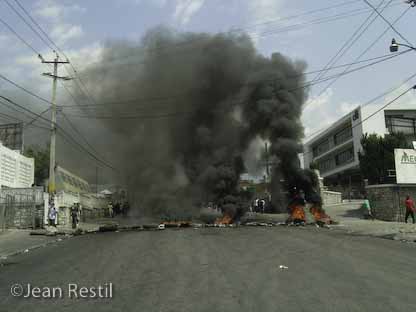 Jacques-Edouard Alexis was not a new comer to the rough and tumble world of Haitian politics. He first served as Prime Minister under Preval beginning in mid-December 1998 following a period in which the latter was forced to rule by decree after the term of a majority of parliament had expired in a political confrontation. During that same period, both Preval and Alexis were accused of being pawns and mere placeholders for Aristide prior to presidential elections scheduled for Nov. 2000. Alexis' administration was responsible for oversight during the contested parliamentary elections of May 2000 that were later used by a foreign financed opposition to justify the ouster of then president Jean-Bertrand Aristide in 2004. It was also during Alexis' first administration that Haiti's most prominent journalist, Jean Dominique, was assassinated.
Alexis' vote of no confidence last Saturday comes on the heels of major riots last week that resulted in the death of five persons and left more than a hundred people wounded according to the international group Médecins Sans Frontières. Signs of discontent had been mounting for two months prior as hunger and unemployment forced Haiti's poor to choose between eating and sending their children to school. Critics claim that indicators of the actual situation facing the poor in Haiti came months in advance.
The dire situation of Haiti's poor went largely ignored by Alexis' government and the United Nations. International press reports in the months leading to the open rebellion against hunger in the streets led casual observers to believe the situation was normalizing. The international press actually helped to obscure the reality of hunger and misery in Haiti. On March 8. 2008, Reed Lindsay reported in the Washington Times, "U.N. peacekeepers in Haiti say they are battling an image of fear that is keeping the Caribbean nation mired in hunger and disease, with little hope of attracting foreign visitors and investment.' Lindsay's fundamental point being that the only thing standing between Haiti and prosperity was merely the perception of 'hunger and disease.'
Despite a propaganda campaign waged by the U.N., the image of former president Jean-Bertrand Aristide is prevalent throughtout Haiti .
April 12, 2008.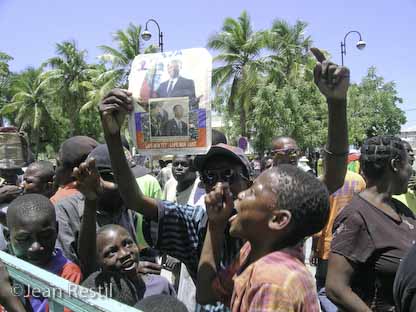 Anger and frustration from Haiti's poor was inflamed by this U.N. propaganda campaign that sought to portray the situation as improving even as the reality of grinding poverty deepened. Radio commercials featuring the voice of hip-hop artist Wyclef Jean and extolling progress made in Haiti by the U.N., saturated the airwaves throughout the country the week before protests erupted in Haiti's third largest city of Les Cayes on April 2. Ironically, the national radio spots produced by the U.N. featured Wyclef urging the Haitian people to "turn away from the use of violence."
The United Nations has blamed the recent upheaval in Haiti on rising world food prices while many in the country also point to the international body's support of neo-liberal economic policies that have favored the Caribbean nation's small wealthy elite. Profits of wealthy Haitian families and clans who maintain a virtual monopoly on the importation of staples such as rice and beans have risen almost as dramatically as prices for basic goods.
In an attempt to forestall the removal of Alexis by the Haitian legislature, President Preval held a press conference early Saturday morning announcing an $8 cut in the price of a 50 lb. sack of rice amounting to a reduction of nearly 16 percent. Preval announced the government will use international aid money to subsidize the price of rice at the cost of US$5 and that the private sector had agreed to knock US$3 off the price of each bag. At the same time, he reaffirmed that the long-term solution to Haiti's crisis is an increase in national production of staple goods by Haiti's peasant farmers. The president's appeal and last minute offer did not appease Senator Youri Latortue who led the movement for Alexis' removal and has been accused of corruption. Latortue has also been implicated in the murder of Jean-Marie Vincent, a Catholic priest in 1994, by former U.N. investigators.
Unaddressed by Preval was that the subsidy of rice by the international community would also undercut Haitian production. In addition to subsidies announced by Preval to lower the price of rice, Brazil announced this week they would provide 14 tons of food in a charitable give away to Haiti through the World Food Program of the United Nations. This would almost guarantee a lower price for locally produced staples as no one will buy them while they are available for free from subsidized distribution programs sponsored by foreign governments.
This represents a catch-22 for Preval and the international community and adds to what many in Haiti already describe as a skewed economic policy. Critics consider Haiti as a captive market of 8.5 million Haitians rather than a free market. Competition is near non-existent and small and medium sized businesses have never flourished under the former system and the current alternative offered by the United Nations.
More importantly, the censure of Alexis' government also signals the end of a tenuous political compromise between those who supported Aristide's ouster in 2004 and co-opted renegades of his Lavalas movement. Preval's Lespwa party base was built upon the Lavalas movement who saw him as a means to end repression following Aristide's ouster. Alexis' government was representative of a temporary truce between supporters of ousted president Jean-Bertrand Aristide and the opposition that worked with the international community to remove him from office.
With Alexis' center-right coalition government now removed from office, it is expected he will be replaced by a more reactionary rightist alternative that will further polarize the political landscape between Haiti's haves and have-nots.
Adding to the insecurity in Haiti is that a U.N. peacekeeper was shot and killed the same day as Alexis' removal. Three U.N. soldiers had been fired upon and wounded a week earlier.
©2008 Haiti Information Project - All Rights Reserved
The Haiti Information Project (HIP) is a non-profit alternative news service providing coverage and analysis of breaking developments in Haiti.
See also:
Haiti: Latortue lacks credibility for UN post in Guinea Apr 8
One protester killed as demonstrations grow in Haiti Apr 4
Mud Cookie economics in Haiti Feb10
Brazilian military's experience comes full circle in Haiti Feb 20
Haiti's wealthy prosper while the poor decline Jan
Pentagon's troubling role in Haiti Jan 12
Human rights defender forced into hiding in Haiti Dec 27
One Lavalas official freed in Haiti, second remains missing