Haiti's freed political prisoners speak out at BAI press conference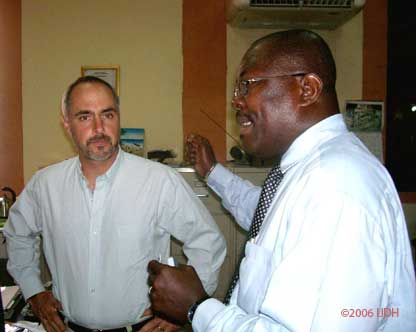 Attorneys Brian Concannon and Mario Joseph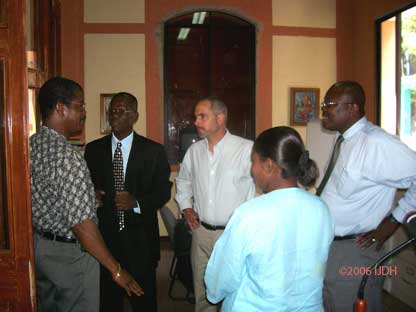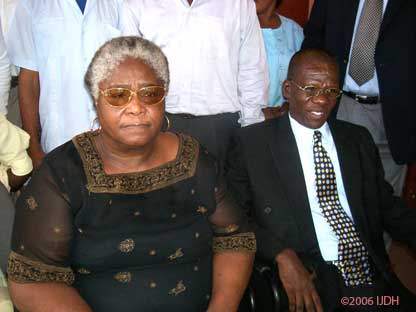 Anette Auguste and Paul Raymond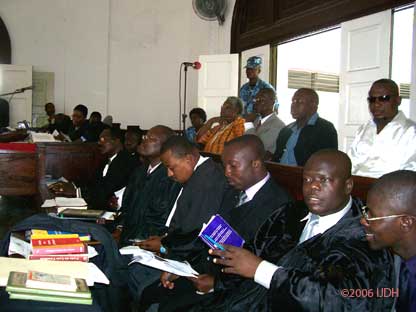 The day in court was straightforward, because for once it was honest: the prosecutors conceded that there was no evidence against Ms. Auguste (as they had conceded in March), and the judge accordingly made a finding of not guilty.
photos and reporting by Wadner Pierre
The Preval - Alexis government of Haiti takes a great step towards justice with the release of four well-known Fanmi Lavalas activists. The morning of August 17, 2006 Anette Auguste, Paul Raymond, Yvon Antoine and George Honore held a press conference at the BAI (Bureau des Avocats Internationaux) office with attorneys Mario Joseph and Brian Concannon
Through this press conference the political prisoners were calling for fundamental change in Haiti with a national reconciliation and the release of all political prisoners.
"I will always dream for the people to find relief from their conditions of misery, " stated Haitian folk-singer Só Ann (Anette Auguste). "Their hope is that they can send their children to school. I ask President Préval to meet with us and bring us into the current of change in this country. We want to work with him toward the same goals."
Paul Raymond added, "we will not forget any one of our demands; among which are the return of our former President, Jean-Bertrand Aristide and the release of all political prisoners, especially the forgotten, the ones who are not well-known"
"I forgive all of those who presented false charges," declared the rapper ZapZap (Yvon Antioine), the ones who had me thrown into prison. I forgive them as they are my Haitian brothers even though they are of other political colors."
George Honore reminded everyone, "I am a victim of the false charges of Judicial Police Chief Michael Lucius that he needs to repair for me. My brothers who stagnate in prison need to be released, President Preval. Go into the prisons and see with your own eyes the misery of our brothers, the overwhelming majority are political prisoners. Especially those who were partisans of President Jean Betrand Aristide."