Congesswoman Maxine Waters - August 16, 2008 - photo: ©Randall White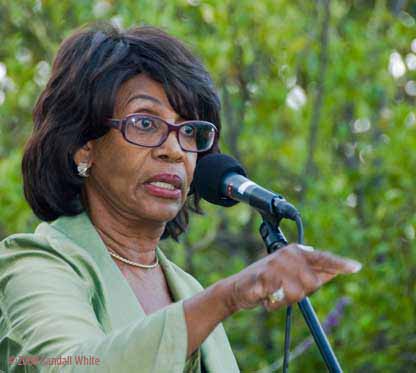 Maxine Waters asks her colleagues for emergency disaster assistance for Haiti

Congresswoman Maxine Waters is circulating a letter among Members of Congress in support of emergency disaster assistance for Haiti. The letter asks the Speaker of the House of Representatives to provide at least $300 million in appropriations for disaster assistance for Haiti following the devastating hurricanes that swept through that impoverished country.
The following Members of Congress have already agreed to sign the letter: Maxine Waters, Bill Delahunt, Ileana Ros-Lehtinen, Barbara Lee, John Conyers, Charles Rangel, Kendrick Meek, Raul Grijalva, Louise Slaughter, Elijah Cummings, Jerrold Nadler, Corrine Brown, Diane E. Watson, Neil Abercrombie, William Jefferson, Jim Langevin, Bennie Thompson, James E. Clyburn, Carolyn B. Maloney, Dennis Kucinich, Edolphus Towns, Sanford Bishop, Bobby Rush, Al Green, Danny K. Davis, G. K. Butterfield, Chaka Fattah, C. A. Ruppersberger, Howard Berman, Henry Waxman, Sheila Jackson-Lee, James L. Oberstar, Peter A. DeFazio, Emanuel Cleaver, Donald Payne, Donna Christensen, Gwen Moore, Yvette D. Clarke, Donna F. Edwards.

The text of the letter is below.
September 11, 2008
The Honorable Nancy Pelosi
Speaker of the House
H-232 Capitol Building
U.S. House of Representatives
Washington, DC 20515
Dear Speaker Pelosi:
We are writing to request that you include at least $300 million in appropriations for disaster assistance for Haiti following the devastating hurricanes that swept through that impoverished country.
Over the past month, Haiti has been devastated by four deadly storms in rapid succession, Tropical Storm Fay, Hurricane Gustav, Tropical Storm Hanna, and Hurricane Ike. On Monday, the United States Agency for International Development (USAID) reported that 15,134 houses have been damaged or destroyed, and 154 people have been killed. As the flood waters began to recede, additional bodies have been found and buried. Tragically, the death toll may never be known.
According to the United Nations Office for the Coordination of Humanitarian Affairs (OCHA), up to 800,000 people in Haiti are in dire need of humanitarian assistance. As of September 6th, more than 100,000 people had taken refuge in temporary shelters – and this was before the onslaught of Hurricane Ike. Many roads and bridges have been damaged or destroyed, and crops have been lost. There is a desperate need for food, water, and health services.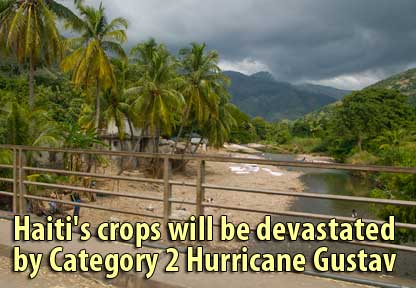 click image for article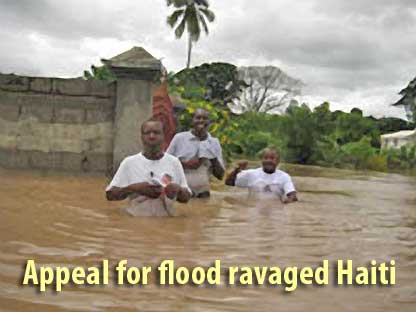 Haiti is already the poorest country in the Western Hemisphere. It does not have the capacity to respond to the widespread death and destruction caused by storms of this magnitude. Immediate assistance from the United States is critical to meet the emergency needs of the Haitian people and begin to rebuild damaged homes and infrastructure.
We urge you to provide an appropriation of at least $300 million in disaster assistance for Haiti in the supplemental appropriations bill or another legislative vehicle that will be passed before Congress adjourns, and we look forward to working with you to help the people of Haiti rebuild their homes and their lives after these unprecedented storms.
Sincerely,
---- BOOKMARK Haiti Action.net Tropical Cyclone Page for latest updates
HaitiAction.net will host a page with many Tropical Cyclone resources so you can find the latest information when you are searching for current updates. We suggest that you bookmark that page for this busy 2008 Hurricane Season.
Previous Hurricane reports:
Haiti's deadly hurricane season just getting started Sep 1
Will Hurricane Hanna threaten Haiti? Aug 30
Dangerous Hurricane Gustav will hit Haiti Aug 25
Haiti's crops will be devastated by Hurricane Gustav Aug 26
Furious Tropical Storm Fay drenches Haiti Aug 15
Democracy Now: Haiti Struggles with Humanitarian Disaster in Aftermath of Deadly Storms
View the latest NOAA observations near Hurricane IKE
More information, resources and links can be found on the HaitiAction.net Tropical Cyclone Page
For the latest advisories from the National Hurricane Center: http://www.nhc.noaa.gov/index.shtml?
Map of Haiti: rezize browser window to enlarge map
Tropical Cyclone Breakpoints - Kiskeya

See Also
Haiti's UN military base expanding:
What is Washington up to in Cite Soleil? Sep 4
Fears of a cover-up grow in the case of missing
human rights activist in Haiti Aug 20
Haiti's leaders indifferent to
the kidnapping of Lovinsky Pierre-Antoine Aug 12
Children's School for the Poor threatened in Haiti Aug 8
IDT, Aristide, and the Haiti Democracy Project
A defamation suit is contemplated Jul 29
Haiti celebrates President Aristide's birthday Jul 15