Dangerous Hurricane Gustav will hit Haiti
Haiti Action.net —Hurricane Gustav is forecast to hit the south of Haiti tomorrow in the region between Côtes-de-fer and Miragoâne causing life-threatening flash-floods and mudslides. Gustav is moving closer to Haiti at 12mph, it is expected that the forward speed will decrease and that the storm intensity will increase over the warm Caribbean waters. Forecast intensity for Gustav is for a Category 1 Hurricane when the center reaches the coast tomorrow morning.
Haiti's residents are ill-prepared to deal with the conditions that are expected from this storm. After over three years of military occupation by the UN, little has been done to bolster hurricane preparedness in the country. Tropical Storm Fay flooded many regions throughout the country just 10 days ago.
Many died needlessly due mainly to a lack of infrastructure including adequate bridges, roads and levees in flood prone areas of the country. Adding to the already crippling effects of malnutrition and poverty evident in Haiti today is a crumbling infrastructure, neither of which has apparently improved despite well-publicized international aid programs totaling more than $3 billion over the past four years. Critics have once again begun to ask what has happened to the aid money if the living conditions of Haitians continues to decline whether through grinding poverty or preventable deaths during the hurricane season.
It is expected that Gustav could dump twice as much rainfall as Tropical Storm Fay over the affected regions.
---- BOOKMARK Haiti Action.net Tropical Cyclone Page for latest updates
Daniel Tillias of Pax Christi explained the goals of the demonstration in Haiti last week marking the one-year anniversary of Mr. Pierre-Antoine's abduction, "Friends and family of Lovinsky are right now in the streets calling [on] the government to put out a report to say clearly what happened to Lovinsky. If he's dead or if he's in a secret jail somewhere…that they have to do something to release him so he can go back to his family."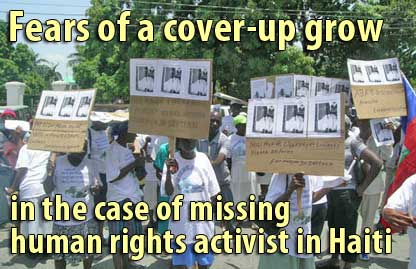 HaitiAction.net will host a page with many Tropical Cyclone resources so you can find the latest information when you are searching for current updates. We suggest that you bookmark that page for this busy 2008 Hurricane Season.
View the latest NOAA observations
near Hurricane Gustav

More information, resources and links can be found on the HaitiAction.net Tropical Cyclone Page
For the latest advisories from the National Hurricane Center: http://www.nhc.noaa.gov/index.shtml?
Map of Haiti: rezize browser window to enlarge map
Tropical Cyclone Breakpoints - Kiskeya

See Also
Fears of a cover-up grow in the case of missing
human rights activist in Haiti Aug 20
Furious Tropical Storm Fay drenches Haiti Aug 15
Haiti's leaders indifferent to
the kidnapping of Lovinsky Pierre-Antoine Aug 12
Children's School for the Poor threatened in Haiti Aug 8
IDT, Aristide, and the Haiti Democracy Project
A defamation suit is contemplated Jul 29
Haiti celebrates President Aristide's birthday Jul 15
"Haiti is violating former PM Yvon Neptune's human rights"
says court Jul 10
Murder charges against Haiti's priest,
Father Jean Juste, are dropped Jun 28
Haiti: Aristide and the removal of Alexis Apr 13
Mud Cookie economics in Haiti Feb10
Human rights defender forced into hiding in Haiti Dec 27
One Lavalas official freed in Haiti, second remains missing