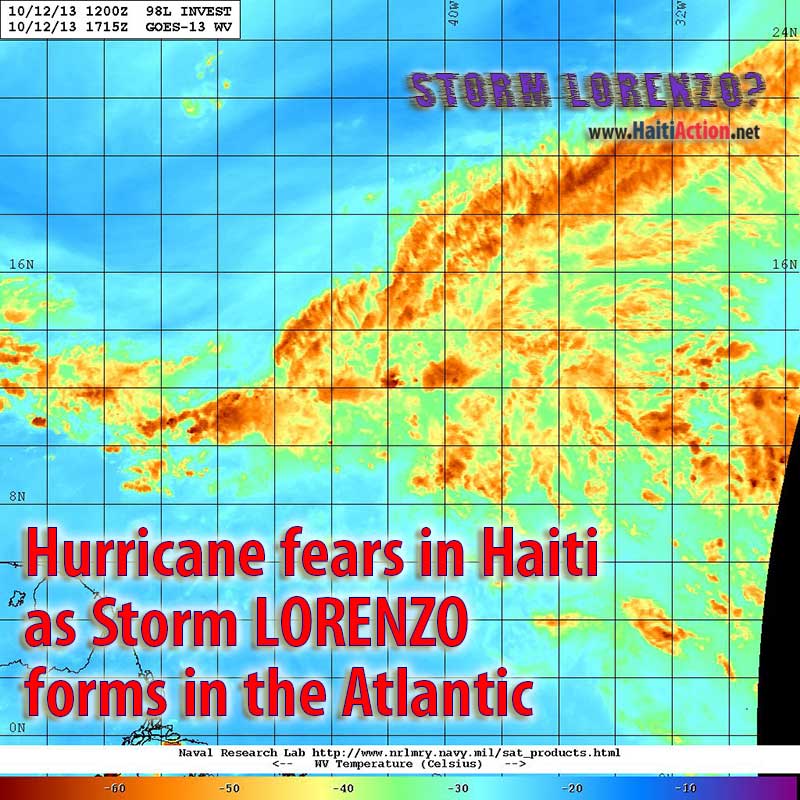 The GOES satellite (vapor) image show the disorganized area of this storm
Hurricane fears in Haiti as Storm LORENZO forms in the Atlantic
HaitiAction.net - Port au Prince, Haiti — Fears that a hurricane could hit Haiti soon were raised today as a disorganized mass of convection formed in Hurricane Alley. Over the next week hurricane watchers will be closely following the progress of this storm system — currently identified as "Invest 98L." The winds are very close to tropical storm intensity. However, due to the lack of complete closed circulation and the likelihood that the system will become less defined as in heads into significant wind shear over the next 48 hours it is unlikely that the NOAA would be inclined to give the storm system the next name —LORENZO — until it passes that region.
Earthquake fears were also raised this morning as the Enriquillo–Plantain Garden fault zone became a bit active with a 4.1 tremor that woke up many this morning; centered 25 miles East of the Barahona town of Enriquillo. It was likely felt in Jacmel and Petionville. This is the same fault zone that was responsible for the disastrous January 12, 2010 Haiti Earthquake.
HaitiAction.net will be following the progress of this storm as it is likely to threaten Haiti. There is no clear consensus over the various computer forecast models, which will — in all likelihood — be shifted westward over the next 72 hours as the effects of the steering currents become more apparent to the algorithms. For now this forecast is expecting that the storm will dissipate soon, if it does reform in a couple of days, the center of the storm could move near Barbados and into the Central Caribbean before taking the typical late season U-turn and heading north into the same region as this morning's temblor.
For now the more official expectations are that the storm will turn northerly over the next 72 hours and miss the Windward Islands altogether. The North Equatorial Two NOAA buoy will be a good front row seat to the current storm conditions over the next two days — as it is currently reporting sustained winds over 25mph and dropping barometric pressure.
----------
  RAW
----------
BOOKMARK the Haiti Action.net Tropical Cyclone Page for latest updates during this hurricane season.
View the latest observations near LORENZO when/if it forms
HaitiAction.net will be tracking the progress of this storm. For the latest official updates, go to the Centre National de Météorologie (CNM) web page Many forecast and tracking resources can be found on the Tropical Cyclone page at HaitiAction.net
Share this story with your networks

SEE ALSO
Contact: info@haitiaction.org
Lovinsky Pierre Antoine
We are not Ghosts and will not be silenced July 19 2007
Will Haiti see hurricane threat soon? Aug 18
Haiti could see Hurricane ERIN threat next week Aug 16
Tropical Storm DORIAN will threaten Haiti this Monday Jul 26
In Haiti, thousands of Lavalas sing "Aristide or Death!" Jan 9
Is the US Embassy in Haiti behind the political tensions? Jan 5
Haiti: Where is the Money? - Researcher Version Jan 4 2012
La Gavage: Obama helps Republican militarists take control in Haiti
May 13 2011
Haiti's close call: Hurricane IRENE scrapes the Mossad Coast before heading north Aug 22 2011
Hurricane MARIA could threaten Haiti next week Sep 6 2011
Haiti could kill EMILY's strength, but many in camps will still have a sleepless night Aug 3 2011
Haiti: Alarming resurgence of cholera Jun 9 2011
The return of President Aristide to his home in Haiti Mar 20 2011
Haiti: MSF Nears 100,000 Cholera Patients Treated Jan 18 2011